Google's audience targeting
What happens when you walk into a suit shop and find nothing suitable for you? They have all these designs, colors, sizes, and you just can't find something that you like? So you order a custom suit, of course, and a tailor measures your proportions and creates something specifically for you.
In the case of Google Ads audiences, custom audience offers something similar. Google offers a wide range of 3rd party data they have on your audiences, to name them all: Affinity, In-Market, Detailed Demographics, Combined Audiences, Life Events, Similar Audiences. And the 1st party data you collect on your site also allows you to use Customer Lists and Remarketing audiences.
For Google's audiences, they come in pre-defined packets like your typical suit shop with premade sizes on the racks. If you are not too particular about the fitting, you may buy one from the rack.
Google allows advertisers to use the range of audiences they collected from their properties, and you can even dive deeper into subcategories. The example from "Beauty & Wellness" breaks out into more specific "Beauty Mavens" and "Frequently Visits Salons."
You should still choose as many audiences as related to your business. Google is not charging you extra to use the audiences. Usually, advertisers will find that while they can almost always find their audience here, it is usually not something that they exactly look for.
Let's say you are a sports shoe retailer. You may go into audience targeting and tick out these packets of users you want to reach.
You realize you also sell water polo shoes, and you have a dedicated campaign for that. Now you search and can't find any pre-defined audiences within Google that fit into this criteria. Doing an audience search and the closest result you will get is "Swimming Enthusiasts." While this audience is fine, it does not mean they play water polo.
You know that only water polo players buy these shoes, now how do you target water polo players? You use a custom audience, just like you tell the tailor that none of these suits is your fitting, and you want a custom-made suit.
Custom audiences – a need for a custom solution
Under shared library, click on audience manager, click on the tab at the top "Custom Audience", now click on the blue "+" icon to create your new custom audience. Custom Audiences gives you four options when it comes to creating your custom-tailored audiences that fit nicely to your business. Let's explore these four options.
Keywords
With keywords, you are targeting the interest of the audiences that represent your ideal customer. Your ads will reach people likely to be interested in or with purchase intent for your keywords based on their behavior and activities, such as apps they use or the type of content they browse or search for online. For the shoe company selling water polo shoes, this may be what you will type in here.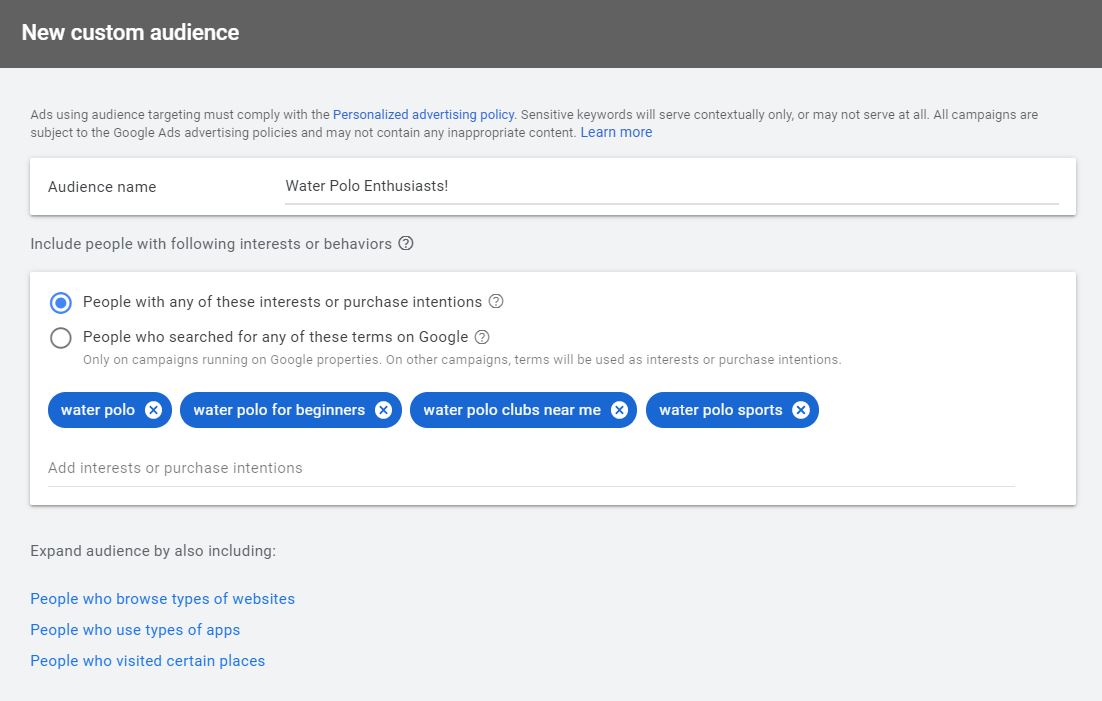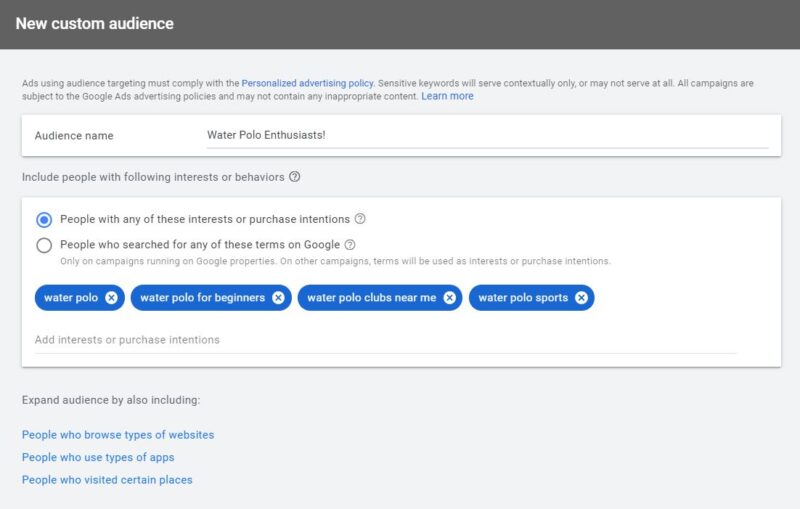 Within this option, Google gives the advertiser two additional options to refine their targeting.
People with any of these interests or purchase intentions (This is the default)

People who searched for any of these terms on Google properties (such as Google.com and YouTube). Only on campaigns running on Google properties. On other campaigns, they will be used as interests or purchase intentions.
I recommend the first option, as this allows Google to pick and learn broadly. However, the second will narrow the users because now, to qualify, they must have searched the keywords in any Google properties.
URLs
Let's say now you find a few leading water polo sites that regularly post competition dates and blog about water polo. You also find a few competitors who are selling similar products like yours, and you find that those audiences will be relevant to your business. Great. Now you should add them to the URL targeting.
There is a single caveat with this option. Google does not guarantee that your ads will show on these URLs, but it will show on sites similar to this nature. This is likely because while Google Display Network has a vast ecosystem of participating websites (2 million+, at least), not every website is monetizing its pages for ads.
Apps
Now you may also find that water polo players frequently use a few apps on their phones. You may target these iOS/Android apps as well.
Your ads will reach people who download and use apps similar to the ones you enter.
Places
And finally, places. You add places where you think water polo players most frequently visit or spend time at. You may come up with a list like this.
Google does not state how they come to find out the places users visit. But I think the answer is clear. It is probably Google Maps that are used for determining user locations. If you ever used Google Maps, the chances are that they have a record of the places you visited. Sometimes you get a notification to rate a place you just visited. This is probably how the magic happens.
In summary
Custom Audiences may not be intuitive for the average user. But it is the best solution to hone in on your audience targeting. You can apply these audiences to any Display or Video campaign. This will help Google's machine learning optimize and become more intelligent over time, delivering you better results. Human inputs like this are what make automation even more powerful.
So while you can wait around and let Google ML eventually find out that your customer usually visits swimming areas, visited water polo websites, or had an interest in water polo online, you can accelerate this learning process by feeding ML the much needed data.