What are Google Search Partners?
The Google Search Network is a group of search-related websites and apps where your ads can appear. Places like Google Search, Google Play, Shopping tab, Google Images, Google maps, and Maps app are all part of the search network.
When it comes to Google Search Partners, most advertisers are not clear with this. They are given an option to turn this on in the campaign settings. It seems pretty tempting, but is it the right choice?

And if you try to uncheck this option (it is enabled by default), Google presents you with this message.

Google seems to be appealing to the "group mentality"; if everyone is in it, it should be good. Good to check it and let it be for the average advertiser, but if you are a concerned business owner, it's pretty much worth digging deeper into what's all this is actually about.
Ads that include Google search partners can reach more audiences out of the Google-owned networks. For example, ads might appear with search results on websites of Google search partners. For text ads, Google says that search partners include hundreds of non-Google websites as well as Google Video and other Google sites. Basically, websites with a search bar partner up with Google to lend their search engine technology to deliver results to their users.
Currently, Google Ads doesn't provide information detailing the website where your ad was shown on the Search Network. So while you may see clicks and impressions from search partners in your reports, you will not know the placements of all these ads.
All Search Network partner sites are obligated to comply with Google policies. So while you can't guarantee the quality of traffic compared to Google.com, you can rest assured that your search ads are not appearing on low-quality, shady, or even illegal search sites.
While Google chose not to disclose their hundreds (possibly thousands) of search partners, we can do some guesswork to see where our ads may appear. The only one officially revealed by Google is – YouTube (obviously, it's their own company). This is pretty helpful for most users, and I would recommend turning on search partners just because of this option.
While you may argue that people on YouTube are primarily looking for videos, search ads may not perform as well. But likely, your cost per click on YouTube will be lower than on Google.com, making it a very profitable network to show ads on. Don't forget that users have to search to see your ads, so they are likely in the lower buying funnel, around the "consideration and desire" phase.
List of search partners sites
We wish we could disclose it to you, but we are equally clueless about the entire list since Google does not want to disclose the partner sites. (hint: Google, if your guys are reading this, please consider making it public or show the top 100 partner sites!)
Let's make a few educated guesses. Fortunately, with some research, we uncovered some big sites that are currently part of Google Search Partners.
Let's break down some golden nuggets: As of 17th September 2021, there are 273,538 websites using Google Custom Search. Most of these websites are eligible to show Google Ads. Google's claim of hundreds of search partners' sites is definitely far from the actual number we will ever know of. The majority of these are small websites in the ocean.
Then we have large sites like The New York Times, The Guardian, and W3Schools who use Google Custom Search Engine (CSE) to power their site searches.
Let's take a look at some websites we uncovered.
Ask.com
Ask.com is a search engine that was started in 1996. This website helps people find web pages that they are looking for, by typing in the subject they want. For example, if someone is looking for web pages about dogs, they would type in "dogs" or "dog" then press the 'search' button. They also show display ads on the right side of the page, sometimes.
Excite.com
Excite is a web portal launched in 1995 that provides various content, including news and weather, a metasearch engine, a web-based email, instant messaging, stock quotes, and a customizable user homepage. The original Excite company was founded in 1994 and went public two years later. Excite was one of the most recognized brands on the Internet last time, with the leading portal site Excite.com being the sixth most visited website in 1997 and fourth by 2000. Albeit not as popular as it once was, it still remains a viable Google partner.
Excite.com now primarily functions as a news site, but when you search something in their search bar, it opens up a new tab and brings you to the search results page. In addition, it runs shopping ads (probably from Google as well) and shows a list of related searches on the side.
Bizrate.com
Bizrate is mainly a comparative shopping site. They allow shoppers to search for items they would like to purchase and then offering direct links to the e-stores that sell the merchandise. BizRate.com also rates online businesses for consumers. However, its primary focus is for shopping searches, and it shows text ads below the fold or on top if it's a non-shopping query.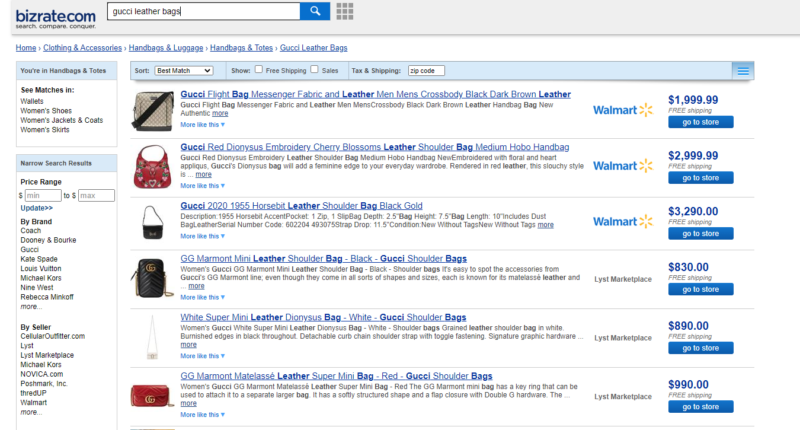 Amazon.com (not confirmed)
Amazon.com seems to be running Google Ads in the past, but it is unlikely that the partnership is still on now. They have also developed their own search engine technology, which competes with Google, called Amazon A9. The A9 Algorithm is the system that Amazon uses to decide how products are ranked in their search results. It is similar to the algorithm which Google uses for its search results, in that it considers keywords in deciding which results are most relevant to the search and therefore which it will display first.
Seeing that they developed their own search engine technology, they are probably running their own search ads now. So Google Ads are unlikely to be showing on Amazon search results now.
Turn search partners on or off?
Our opinion at Samurai PPC is… *drum rolls*… Turn on. Yes, the general rule. To avoid going too deep into the discussion, we will provide a few high-level reasons why.
Reason 1 – data makes machine learning smarter
The first reason is that Google's machines are continuously learning and getting better every day. The whole company is essentially run by data – collected from its billions of users. They continually perfect their search engines by understanding the billions and billions of searches that happen on their networks, compiling all that information so their algorithms can mirror a human's brain. (it is no doubt why they are the 4th most valuable company in the entire world!)
Reason 2 – smart bidding provides a safety net
The next reason is that our ads are run by smart bidding. As smart bidding takes the default mode of operation in our ads system, there's less need to control and restrict the placements because the bidding algorithm can "bet" in real-time on the likelihood that the searcher will convert. So a search partner ad on ask.com is definitely not going to cost more than a search on google.com. Let's use an example, say your ad appears on both sites. A click on Ask.com may cost you only $0.50, while another click on Google.com may cost you $1.50. In this case, for every 1 Google click, you can afford 3 clicks on Ask.
The reason why is because the algorithm is intelligent, and it adjusts its bids based on thousands (perhaps millions) of signals received in real-time, whether the searcher is likely to end up a conversion.
Reason 3 – YouTube
Enabling search partners is the only way for your text ads to show on YouTube search results. This can be very powerful because YouTube is currently the second biggest search engine in the world (behind Google). It is also the biggest video search platform in the world. Also, research has shown that in some markets, users like to watch videos for product reviews or to get more information before heading to purchase. For example, mobile phones and appliances markets find that users will look on YouTube for an "expert's advice" and popular reviews channels before thinking about purchasing something.
Extra reason – Brand searches
On an extra note: brand campaigns always benefit from search partners. People looking for your business name are specifically looking for you. So it doesn't matter where your ad show on. Search partners help expand the reach by putting you on more sites. Pair up with brand searches usually are ridiculously discounted compared to your normal keywords, and layered with search partners, you may end up paying 1/10 or 1/20 of what you would pay for a non-brand click.
As we all know, it's never sunny every day. So when should we turn it off? 1) If the clients say so and providing a reasonable explanation why. Then, we will explain to them why it is better to keep it on. 2) The returns on search partners are terrible. So the second option is more likely the case for turning it off.
Throughout our clients' accounts, we are seeing that search partners account for less than 1% of all their search traffic, regardless of the time frame. And the cost per click is consistently lower than on Google networks. Search partners may pose a higher contribution for campaigns that run internationally.
Summary
Understanding the function of Google Search Partners will push your marketing prowess to the next level. And if you are a business owner, you will understand the rationale behind your decisions, and not just because you saw the label from Google that says, "Most advertisers enable this."
Once again, our default approach is to enable this. But like the Google way – let your data decide. If you find in your reports that search partners are unsatisfactory and provide marginal returns compared to the cost, feel free to disable it. 
If you have any questions regarding the optimal Google Ads management, you can reach out to us here.