Google has announced that there will be an update to the way their smart bidding strategies are organized. Advertisers should now see the following options when they create new bid strategies for Search campaigns:
Maximize conversions will have an optional target CPA.
Maximize conversion value will have an optional target ROAS.
Standalone tCPA and tROAS are going away. "In the next few weeks, you'll no longer have the option of using the old Target CPA [tCPA] and Target ROAS [tROAS] bid strategies for standard campaigns," Google said in the announcement, "Instead, use the updated bid strategies by setting optional targets. This update only applies to campaign-level strategies; portfolio bid strategies will be updated next year."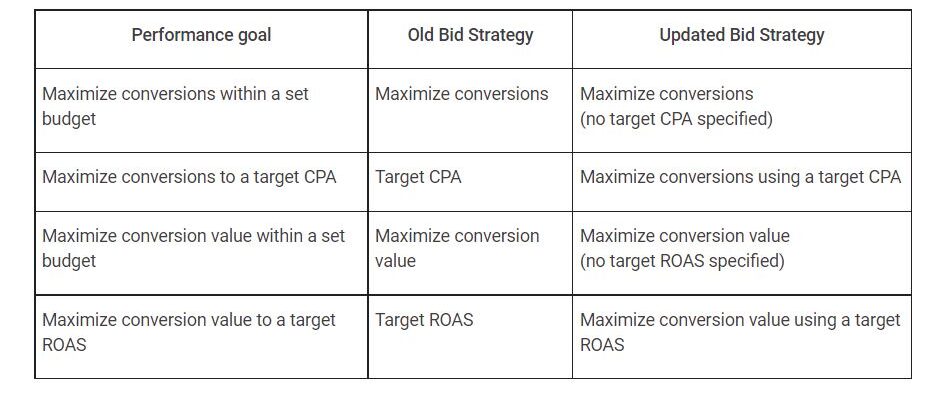 The "Bid strategy type" column will now help advertisers see if a target CPA or target ROAS has been set.
This means that within the next few weeks, advertisers can no longer create campaigns with the old tCPA or tROAS bid strategies. The new move seeks to make their platform simpler to understand with the lesser options it now provides to advertisers.
Before this, we had standalone tCPA, tROAS, Max conversions, and Max conversion value for conversion-focused strategies. But now advertisers will only get 2, as tCPA and tROAS will merge in with max conversion and max conversion values.
Note that the tCPA and tROAS values are optional, you may leave it blank.
Why is it important?
PPC professionals should know what to expect so that they know how to create the appropriate campaigns moving forward. As of this update, no bidding behavior will be changed. "Using Maximize conversions with a target CPA will have the same bidding behavior as Target CPA," Google said, "Likewise, using Maximize conversion value with a target ROAS will have the same bidding behavior as Target ROAS."