Ultimate guide to Google Ads campaigns
What are Google Ads campaigns? Before we get into it, let's look at what a marketing campaign is.
Marketing campaigns are a very common term in our field. Based on the definition by Investopedia, "marketing campaigns promote products through different types of media, such as television, radio, print, and online platforms. Usually, a marketing campaign comes with a goal and a budget. For example, the goal may be to build a brand image, create brand awareness for a new product, increase sales for a product, or even to negate negative publicity to the brand."
As for the marketing budget, it usually depends on the marketing medium being used. Some mediums generally cost more than others. Things to be considered are the length of the campaign and the scale of audience the company wants to reach. All these factors will influence the budget of the campaign.
What are Google Ads campaigns?
Now let's begin. When it comes to Google Ads campaigns, the definition is no less different from above. Google Ads campaigns are created based on the different types of media used, networks to reach. They also come with a campaign goal and a budget.
Based on the official definition by Google, a campaign is: A set of ad groups (ads, keywords, and bids) that share a budget, location targeting, and other settings. Campaigns are often used to organize categories of products or services that you offer.
A campaign allows you to promote your products or services on Google's vast network of platforms. These individual platforms will be explained in detail later. Within Google Ads, it is common to see advertisers using multiple campaigns in their accounts.
There are a few reasons for this; let's investigate the main reasons why.
Why create multiple Google Ads campaigns?
Creating an account with just 1 campaign would not make much sense for most advertisers, similarly to having 100 campaigns.
There are many deciding factors on why users need to create multiple campaigns within their accounts. Use these as your guiding points when creating your own campaigns.
Location matters
The location is set at a campaign level. If you have not read the article about Google Ads account structure or do not have an understanding of the hierarchy within a Google Ads account. I suggest you read this article first.
That being said, you cannot set the location at the ad group level. So, if you are running a campaign in multiple countries or regions, you probably want to separate it into different campaigns. If you don't separate it out, your campaign data will be hard to analyze as everything gets clumped together. In addition, you can't measure each region's performance and set a separate budget for it.
The best way will be to create multiple campaigns, each targeting a single region. In this way, you can report accurately and set a different budget and goal for each campaign based on its targeted region.
Separating different product categories
A popular and necessary way to create different campaigns is to separate them into different product categories. If your business has a few distinct products or services that differ from one another, it is helpful to separate them out by campaigns. For example, a design company offering design services for logos, t-shirts, and posters would benefit from separating them into different campaigns.
Once again, in this way, you can report accurately and set a budget and a different goal for each of them.
Using different campaign types
This is the most obvious point. There are different types of campaigns within Google Ads. Each has its own targeting and network to reach. These will be listed in detail in the following sections. Most people think Google Ads only covers search, which is nothing further from reality.
Being online for one hour every day would probably expose you to many ads from Google, even if you are not explicitly doing a Google search.
Google Ads is a big umbrella of everything online advertising. The fact that it had been rebranded from AdWords into Google Ads in 2018 says a lot about the company's direction. It now comprises so many audiences and platforms that it's hard to count.
We have Search ads, Video ads on youtube, the Display Network, Google Discover, Gmail, Apps, Maps. The newly released (as time of writing) Performance Max campaigns are literally a combination of all the above into one campaign.
Don't worry, as all these campaigns will be explained in the following section.
Testing campaigns
Another common reason for advertisers to create multiple campaigns is due to testing. The transparency of Google's data to advertisers allows them to know what is working and whatnot, making campaign testing a very viable option within Google Ads. Ad testing is essentially about changing a variable or multiple variables within one campaign while keeping it in the control, and finding out which one will perform better.
For example, you can test whether targeting the whole geography works better or just the main parts of it. You can test whether having an ad that mentions the benefits first works better or your business accolades, such as the industry awards your company won. You can also try sending users to different landing pages and quickly know which landing page has a higher performance. The list is endless when it comes to campaign testing.
Fundamentally, we want to know which ad works better to get a better return on our advertising budget.
Types of Google Ads Campaigns
Google Ads is an extensive ecosystem of platforms and audiences. Think of it as a large university campus.
Google Ads is now a big house of many platforms to effectively reach your customers, regardless of the stage they are at. Marketers may be familiar with the purchasing funnel comprising 4 stages: Awareness, Interest, Desire, Action. (AIDA in short)
Google Ads now reaches audiences throughout the entire funnel.
Now, let's look at the various campaign types below and how they differ from each other.
Search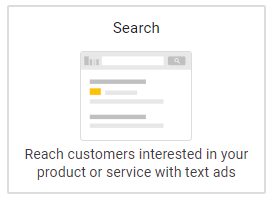 Search campaigns are perhaps the most common campaign type used within Google Ads. They are also the oldest type of ad since the company was essentially founded with search back in 2000.
Search campaigns are text ads on search results that let you reach people while they're searching on Google for the products and services you offer. These usually target bottom-of-funnel, high-intent audiences that are closest to taking action. Conversions rates are typically highest on search compared to all other platforms on Google.
Search ads are great for driving sales, leads, or traffic to your website, as you can show your ads to people actively searching for your products and services.
Display
Display campaigns let you reach a relevant audience with visually engaging ads as they browse millions of websites, apps, and Google-owned properties, such as YouTube, to achieve your marketing objectives. These campaigns are a great way to expand your reach and stay top of mind with an audience while they spend time on the internet.
Based on Comscore, Google Display Network sites reach over 90% of Internet users worldwide. Display Network allows you to target by contextual signals (like "outdoor lifestyles" or "cnn.com") and also user type (like "young moms" or "people shopping for a new sedan").
Video
Video campaigns let you show video ads on YouTube and other websites. There are a ton of video formats you can choose from, depending on your advertising goals. The broad-reaching ability is perfect for creating brand awareness and consideration around your product. It can also be used to drive top-funnel audiences down in the buying funnel.
They may not buy from you today, but at least they know of your product or services now.
Discovery
With the ability to reach up to 3 billion people monthly on the YouTube Home and Watch Next feeds, Discover and the Gmail Promotions, you can reach more potential customers as they browse everything from the latest fashion trends to new cooking recipe videos on popular Google properties.
The 2 platforms unique to this campaign is Discover and Gmail. So if you are planning to reach audiences there, you have to use a Discovery campaign. The ad format for discovery is also unique. They resemble visually rich postcards rendered natively across Google properties at scale. It is perfect for reaching top-funnel audiences. It also can be used alongside other top-funnel campaigns types such as Display and Video.
Shopping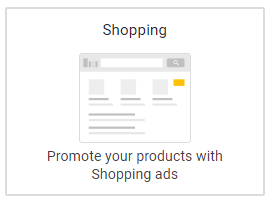 Google Shopping campaigns are product listings that are ideal if you're a retailer looking to sell your product inventory. Shopping ads appear on search results, the Google Shopping tab, and Display Network. They look like listings, showing your product image, title, price, store name, and more. These ads give users clarity of the product you're selling before they click on it to the page with the product.
Local
Local campaigns help you bring people to your physical stores and venues.
Your ads will be automatically optimized to appear across Search, Display, Google Maps, and YouTube. If your business focuses on users traffic into your physical shops, such as a restaurant or medical clinic, you can benefit significantly from Local campaigns since they mainly target users looking to get to places. Ads typically appear with "Get Directions" and "Call Now" as the main call-to-actions.
App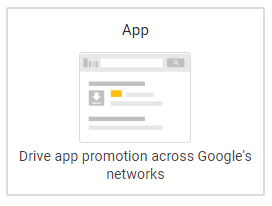 App campaigns help you find new app users and increase sales within your app.
This campaign type uses information from your app to automatically optimize ads across Search, Play, YouTube, Discover, and over 3 million sites and apps.
Smart
Smart campaigns are the easiest way to automate your campaigns and get your ads up and running. The setback to this is that there's really no control or options for the advertiser here, and is created to be friendly to the total marketing newbie.
(We do not suggest advertisers use this at all.)
Performance Max
Performance Max is the latest addition to the Google Ads campaigns.
Based on Google, this is a new goal-based campaign type that allows performance advertisers to access all of their Google Ads inventory from a single campaign. It's designed to complement your keyword-based Search campaigns to help you find more converting customers across all of Google's channels like YouTube, Display, Search, Discover, Gmail, and Maps.
Google Ads campaign budget
Your Google Ads budget is one part of the campaign-level settings, but it is quite important, so I decided to dedicate a section to explain it.
The budget within Google Ads is set at the campaign level. This means that every ad group within a campaign will use the same budget. For example, if your campaign budget is $100/day with 8 ad groups within the campaign, then the 8 ad groups will all share a combined budget of $100 a day. However, this does not mean that the campaign will spread the budget equally among the 8 ad groups. Instead, its spending will likely be uneven as some ad groups will end up spending more than others.
Advertisers will have to prevent any ad group from cannibalizing the campaign budget from the rest. And this can be resolved by moving the "budget-hungry" ad group into its own campaign or increasing the existing campaign budget.
Why am I not showing more compared to my competitors?
When it comes to budget, it is like the gunpowder in a fight. Advertisers will be faced with this inevitable conclusion; while account optimization and proper ad management allow you to get the biggest bang for your buck, it is unlikely for you to out-advertise your competitor who is spending, say, 5x your monthly budget.
Google can spend up to 2x your daily budget
For daily budgets, keep in mind that Google Ads maintains daily budgets over the course of 30 days. On any day, a given campaign is allowed to spend up to twice the daily budget if performance indicates value in doing so. Google Ads will then correct itself by under-spending on a lower performing days to offset the days with increased budget.
Campaign level settings
There are many settings that can only be controlled at the campaign level. All ad groups within the campaign will adhere to the campaign-level settings. Let's look at the main ones and see how it impacts your campaign going forward.
Budget
The budget has just been explained, but it's still part of the campaign level setting. It determines how much you would want to spend in a given day. This is known as "daily budget". In certain campaigns, such as videos, you will be given another option called "campaign budget" which allows you to set a budget if your campaign is only running for a specific period of time.
Location
Your campaigns are eligible to show to customers in your targeted geographic locations. Choosing a region will mean that all ad groups within your campaign serve to that region.
Languages
Languages target customers who have selected your targeted language as their browser's language setting. Google recommends choosing the language you serve your customers in.
Devices
Campaigns target all types of devices, which include desktops, tablets, and mobile devices. Later, you can choose to customize ads for different devices. 
Devices are the only option here that can be set at the ad group level. However, most of the time advertisers will choose to set this at the campaign level. To exclude any device from seeing your ads, set the bid adjustment to -100%.
Bid strategy
Choose this to manually set your bids for clicks on your ads or let Google Ads do it for you. Depending on your campaign type, you may see additional bidding options to choose from. There are many types of bid strategies, such as Enhanced CPC, Maximize Conversions, Target ROAS, Target Impression Share, and more.
Network

This is where you decide to include or exclude Google network partners, such as search, display, and video partners.
Google's own network is often great, but they also work with millions of external websites and domains that can serve your ads. If you are looking for additional reach outside of Google properties, you can enable this option. If you just want your ads to show on Google, uncheck both boxes.
Campaign start date
This is the start date of your campaign. It will start on the selected day.
Campaign end date
You can select a campaign end date. It will end on the selected day.
You are also given an option to let the campaign run indefinitely by not selecting an end date.
Ad schedule
Ad scheduling can be helpful if your business opens in specific hours only. For example, a food catering service may not be accepting calls after 3 pm. Therefore, they may set the campaign schedule to run from 7 am to 3 pm and the rest of the day the campaign will be paused. However, most advertisers do not use a schedule because most leads are not time-sensitive requests.
Summary
There you have it. By now, you should have a broad understanding of how campaigns work in Google Ads. Campaigns are just one part of the Google Ads account hierarchy, but they play a huge role in the account.
In summary, we started the article by explaining what are Google Ads campaigns. why users create multiple campaigns and the different types of campaigns within Google Ads. Then we looked at the different campaign-level settings to understand how these settings affect everything within the campaign. Campaign level settings such as location, budget, languages, devices, bid strategies, network, and ad scheduling.
Building out your campaigns properly is the key difference between successful and failing Google Ads accounts.